By Sharon Slocum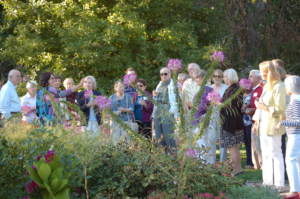 Take a walk under a shady stone-pillared pergola. Surround yourself with a hedge in the sunken garden. Relax on a bench under falling magnolia blossoms. Watch the bees and butterflies flit from one purple-spiked flower to the next. Or do nothing but eat your picnic and feel the peace and quiet.
The Goodbody Garden is truly a quiet oasis, far from much of the City of Stamford's busy comings and goings. It sits nestled beside the remnants of the Revolutionary War outpost of Fort Stamford.  Large earthen mounds that once supported the corners of the garrison, are still visible, just outside of the garden.
Why is there a beautiful formal garden next to a historic site? All the Stamford Historical Society's records could tell us show is that in the early 20th century, New York financier Marcus Goodbody had an imposing home with formal gardens at this location. Unfortunately, the property declined over the years and the gardens fell into disarray. In 1972, the City of Stamford acquired the land and demolished the house. Two years later, the Stamford Garden Club and the Glenbrook Garden Club accepted the mayor's invitation to restore the garden as a Bicentennial project. On July 4, 1976, the renewed garden was officially dedicated to to the City of Stamford. It has been maintained solely by the Stamford Garden Club as its major civic project ever since. Each year, from March to November, club members plant, prune, weed, water, and mulch, monthly or more if needed.
The garden's planting scheme has been redesigned several times as a result of deer browsing, watering issues, and of changing light conditions. Over the years, the Stamford Garden Club added about thirty native plants. By doing so, the club won a Design in Excellence Award for showing the public how natives plants can be incorporated into a formal garden setting.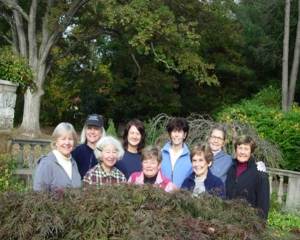 A few of the Goodbody Garden gardeners at rest.
For more information, please go to: http://www.fortstamfordpark.org/