2014 Gloria Hollister Anabel Conservation Award
The Stamford Garden Club's Gloria Hollister Anable Conservation Award is Given to Scalzi Riverwalk Nature Preserve Volunteers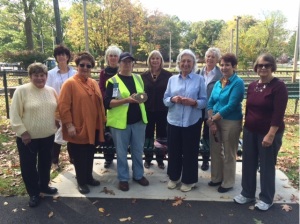 (Pictured above, left to right; Pat Langley, Michelle Alexander, Valerie Mead, Susanne deMilt, Sue Sweeny,Re Telep, Marianne Pollok, Barbara Miller, Lenore DiPalma, Beazie Larned.)
The Stamford Garden Club recently awarded the Gloria Hollister Anable Conservation Award to the volunteers of the Scalzi Riverwalk Nature Preserve "for outstanding achievement in the area of conservation, historic preservation, environmental protection and civic enhancement".
The Gloria Hollister Anable Award was established in 1980 by Marion Glowka who was President of the Stamford Garden Club at the time. The Award commemorates the life of Gloria Hollister Anable who was an explorer, scientist and conservationist. In 1931, Ms. Hollister set a women's world record for ocean descent in a bathysphere in 1931. She married Anthony Anabel in 1941 and moved to Stamford in the early in the 1950s. Mr. and Mrs. Anable then joined forces with other like-minded conservationists to found the Mianus River Gorge Conservation Committee. The original 60 acre Mianus River Gorge was the first natural history landmark to be registered by the Department of the Interior. The preserve has since grown to 555 acres. Mrs. Anable was chairman emeritus of the committee at her death in 1988. Mrs. Anable was also Conservation Chairman of the Stamford Garden Club and a Director of the Stamford Museum. She was also a fellow of the New York Zoological Society.
Since 2009, Scalzi Riverwalk Volunteers have invested over 8,000 hours restoring this 6.5 acre section of the Mill (Rippowam) River. The all-volunteer stewardship assists Stamford's Parks Department in all phases of the Preserve's land management including removal of invasive plant material from the banks of the river. With the desire to encourage this natural wildlife habitat, native plants are propagated in the Stewardship's Native Propagation Lab found in the greenhouse of the Bartlett Arboretum & Gardens. About half the volunteers, including the Volunteer Head Steward, Sue Sweeney, are Bartlett Arboretum based Master Gardeners.
Sue Sweeny commented, "It is an honor to be recognized by this long-time Stamford institution (The Stamford Garden Club was founded in 1921). Their conservation award is named for one-time Stamford resident Gloria Hollister Anable who, among other things, helped found the Mianus River Gorge Conservation Committee, the pioneer land project of The Nature Conservancy."