The School Lettuce Challenge
How do you get Stamford kids from 2nd grade through high school all growing lettuce at the same time. The Stamford Garden Club and Green Initiative for Vegetables in Education do just that with the annual "Lettuce Challenge Contest".  Students from classrooms throughout Stamford are given the opportunity to grow lettuce plants in their classrooms for six (6) weeks each Spring.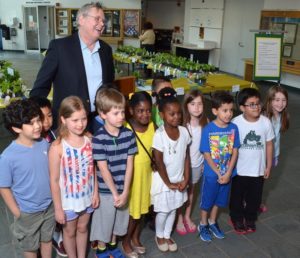 Mayor Dave Martin celebrates the winners.
Three plants selected by each class as their "best" are  then entered into a city-wide contest held in the Stamford Government Center in May.  A panel of horticulture experts is invited to judge the contest and award ribbons.
At the end of the competition, all of the lettuce plants are planted in the school's G.I.V.E. (Green Initiatives for Vegetables in Education) garden.
This event is underwritten and staffed by the Stamford Garden Club which is most appreciative of the participation of all the teachers who assist their students with the "Lettuce Growing Challenge".  In addition we thank Pam Sloane, director of the G.I.V.E. gardens, Sam Bridge Nursery and the Stamford Government Center for their invaluable support for this project.